Beeldlezing
Wat is een beeldlezing:
Deze trainingsvorm legt zich eigenlijk alleen uit als je het meemaakt. In plaats van dat ik het met tekst uitleg, laat ik een voorbeeld zien: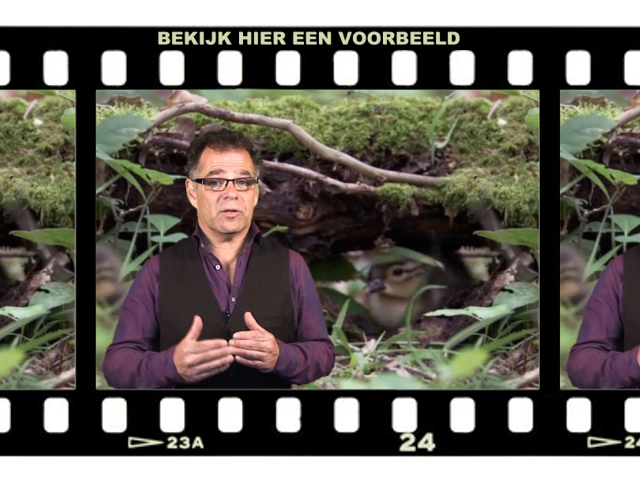 Waarvoor dient een beeldlezing?
Bij een beeldlezing ben je met je organisatie, afdeling of team interactief betrokken bij een aantal speciaal voor de gelegenheid geselecteerde filmbeelden die een vraag en antwoord uitdiepen. Filmbeelden blijven lang in het collectieve geheugen hangen. Maanden na de beeldlezing kunnen medewerkers het er nog over hebben. 'Hoe deed die mandarijneend dat ook alweer?' 'Hebben wij wel genoeg zachte blaadjes?"'Met de groep beleef je alle facetten van de verandering die je voor ogen hebt met positief voorbeeldgedrag uit diverse films en documentaires.
Thema's
Thema's voor een beeldlezing zijn heel variabel, maar denk bijvoorbeeld aan het mobilteitsvraagstuk, resultaatgericht leidinggeven, peoplemanagement, het nieuwe werken of aan het concretiseren van (nieuwe?) kernwaarden.
Samenvatting
Inhoud: Op het uitgekozen thema wordt er op maat een beeldlezing gemaakt. De geselecteerde filmbeelden vormen bij elkaar het verhaal van 'de reis van de held'
Niveau: Voor ieder niveau
Lengte: 1 tot 3 dagdelen
Doelstelling: Veranderingen laten doorleven en beklijven, snappen wat er moet gebeuren, paradigma veranderingen bewerkstelligen
Nodig: Verdonkerbare ruimte voor bioscoop ervaring, krachtige beamer, professioneel geluid en wit scherm.
Prijs: Op aanvraag